The 17 cities that took part in this meeting on Urban Innovation were Amsterdam, Aurora, Athens, Belfast, Dublin, Ghent, Greenwich, Helsinki, Leipzig, Limerick, Lisbon, Liverpool, London, Prague, San Diego, Toronto and Zagreb.
How smart districts can drive urban innovation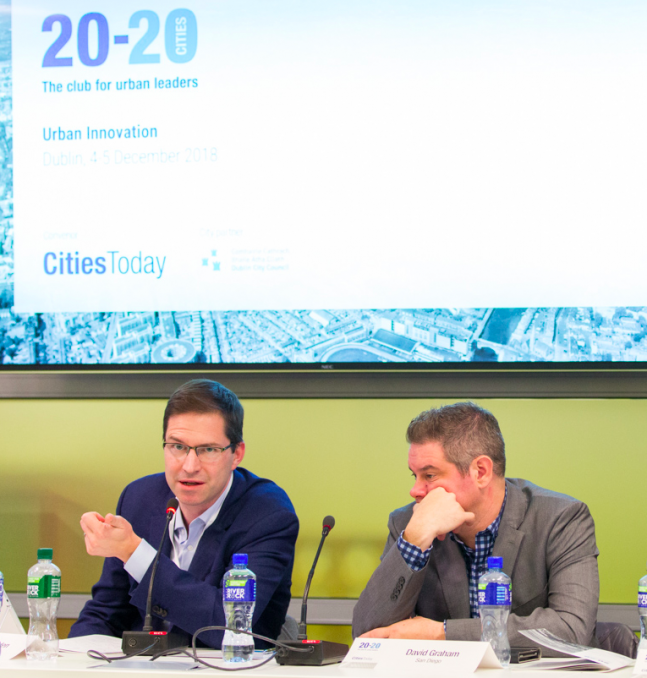 Smart Docklands is jointly funded by the city and Trinity College Dublin. Theo Blackwell, Chief Digital Officer, London said that involving universities was crucial to the success of a smart district.
"Today smart districts are not only home to university campuses but also spaces where new and unique collaborations between university departments and cities can be developed. UCL's new space at Here East in the Olympic Park, London between the Bartlett Faculty of the Built Environment and the Faculty of Engineering Science is one such example and another is what we see through the Smart Docklands here in Dublin."
Nearly half of the 15 city chief innovation, technology and digital officers in the room said that they had a smart district of their own–all at various stages of maturity.
James Noakes, Councillor and Cabinet Member for Energy and Smart Cities at Liverpool City Council, asked his peers if such districts are better off being allowed to develop on their own.
"Some creative areas of cities have sprung up organically," he said. "They were created by people because the city knew when to step out of the way and only stepped in when they were called upon."
Similarly, how to recreate and foster such creative areas of a city needs to be better understood.
"Why is this particular area booming?" asked Maddie Callis from City Possible, Mastercard. "People went there first and then it became smart; what is there to be learnt?"
Others asked if smart districts would still be relevant in 10 years' time, joining the likes of science parks.
Bart Rousseau, Chief Data Officer, Ghent, said that his city lacks new land or brownfield sites to create a district of its own from scratch.
"We can look at hub areas if that is the case," he said. "Proximity [of hubs or smart districts] to the rest of the city is an asset, as is ensuring there is benefit and value to people. Retrofitting a medieval city like mine with 5G will create noise, roadworks and complaints from residents. We need to bring this back to making a better life."
Ensuring social issues are included is equally important, noted Trevor Dorling, Director, Digital Greenwich, London.
Michael Guerin, Programme Manager, Smart Docklands Dublin, said that being in the heart of the city and working closely with several different community groups of varying backgrounds, has meant Smart Docklands is continuously developing solutions with citizens as a key focus.
Similarly, Paddy Flynn, Director of Geo Operations, Google said that as the largest corporate resident–the tech giant established its European headquarters in the Docklands 15 years ago–it has been heavily involved with the local start-up ecosystem and community development.
Other topics discussed over the two-day meeting included multi-city accelerators, data sharing with mobility services, and digital rights and data commons.